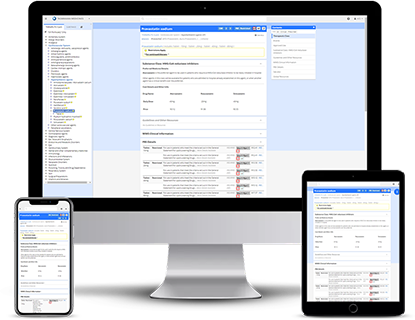 Instant Reference
Modern medication management is a complex activity for which clinicians require substantial knowledge about medicines to ensure that the 'five rights' are achieved.
HCS Formulary is the first product to be available in Australia that draws all of your knowledge resources regarding medicines into one place for instant reference by clinicians. Whether information is clinical or regulatory, national or local, it is all contained within a single screen.
Features include:
Comprehensive clinical information
Abridged and full MIMS monographs, with dosing, indications for use, contraindications, administration advice and other critical information;
Context driven linkages to other knowledge resources that deliver more detailed information;
Specific clinical resources identified by your organisation inserted into the solution for clinician reference.
Fast and flexible access to permissions to prescribe
Presentation of medicines approved for inclusion on the organisation formulary as available to be prescribed, with all guidance relating to local / Drug and Therapeutics Committee rulings;
All PBS information to guide decisions around availability in the community;
Views of hospital formulary, non-formulary and hospital only medicines for prescription and charts.
Because this resource is available on any computer device, from desktop down to tablet and smart phones, staff have access to the information they require at the point at which they make their decisions.
HCS Formulary is the definitive next-generation decision support solution for medication management of medical, nursing and pharmacy clinicians within your service.
Download the Product Brochure